Cartuccia di toner RGP-2 per stampante Canon
Utilizzare per Canon RGP-2 GP200 GP 300 GP 400
Nuova cartuccia di toner

9.2k pagine al 5% di copertura come resa OEM
Parti della cartuccia del toner di alta qualità: OPC, toner in polvere, PCR, MR, DB, chip ecc. Importati

Campione e consegna dell'ordine entro 3-5 giorni lavorativi
Model Number:

RGP-2 GP200

GP

300

GP

400


Feature:

All brand new

Use for:

GP21/25/40/200/210/215/220/225/285/300/315/330/335/355/400/405/415


Paper Yield:

BK 9.2K Pages @ 5% coverage

Warranty:

18 months under regular shipping and stock condition

Defective:

< 0.5%


Certificate:

ISO9001, CE, ISO14001, STMC

Payment Terms:

T/T,Western union, L/C, etc-

Trade Terms:

EXW,FOB , CIF, etc-.

MOQ: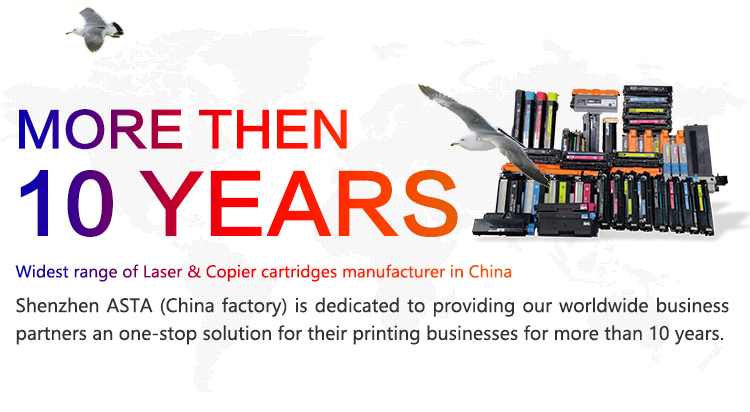 Acquista la nuova cartuccia di toner compatibile ASTA ACO per CB435A Utilizza per HP LaserJet P1002 / 1003/1004/1005/1006/1009 Cartuccia di toner in

-ASTA Branch a Dubai, in Messico, Pakistan.
-ASTA ACO Toner Cartridge and Copier Toner Gobal Agente del marchio:
Mali; Bangladesh; Sri Lanka; Siria; Mongolia; Palestina; Perù; Dominica; Colombia; Kyrghzstan; La Libia; Bolivia; Romania; Giordania; Pakistan; Kuwait; Perù; Lebano; Bangladesh; Turchia; Ecuador; Algeria; Arabia Saudita ; Iraq; Colombia; Macedonia; Laos.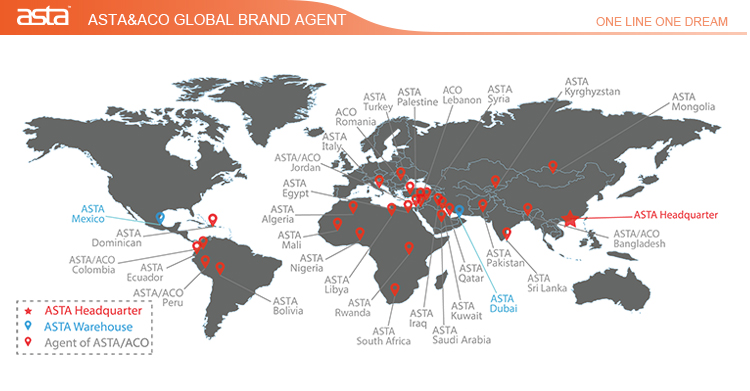 Vantaggio e informazioni di fabbrica ASTA

Fabbrica di cartucce di toner ASTA e settore industriale 35000 mq
16 marche oltre 2000 modelli di toner e kit di toner per fotocopiatrici

Staff e lavoratori: 510 persone

La capacità di produzione mensile è di 600.000 pezzi. Cartuccia di toner e kit di toner per copiatrice

1000000 PCS Parti di materiali di consumo per la stampa

Tutta la cartuccia di toner ASTA e ACO e il toner della fotocopiatrice hanno superato la portata CE, Rohs. ISO9001. ISO14001 .SMTC. Certificato
Mostra dei materiali di consumo di stampa ASTA

Remax World Zhuhai, Cina. Imaging Summit & Expo, Cancun, Messico. Gitex Dubai .Messe Frankurt Germany. PaperWorld Expo Medio Oriente . Bussiness Inform Russia
Test di stampa della cartuccia di toner ASTA
(Ulteriori informazioni sulla cartuccia NewToner compatibile ASTA ACO per la qualità CB435A su YouTube @ASTA Toner Cartridge)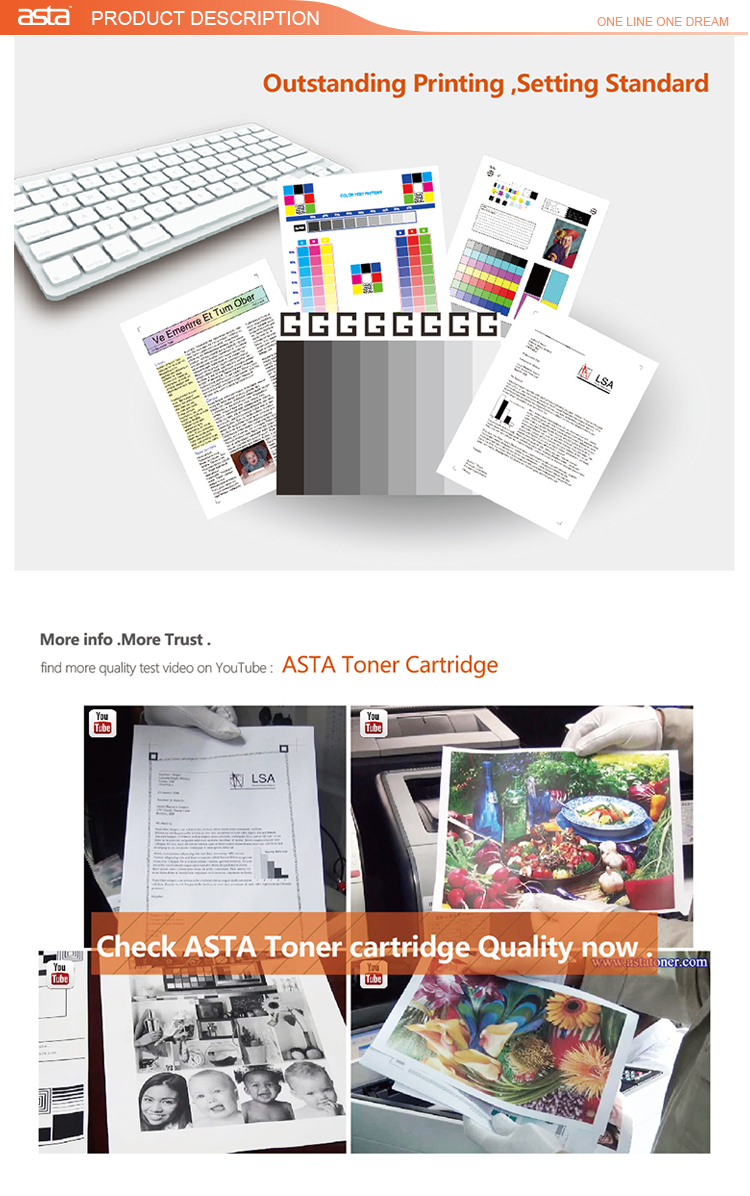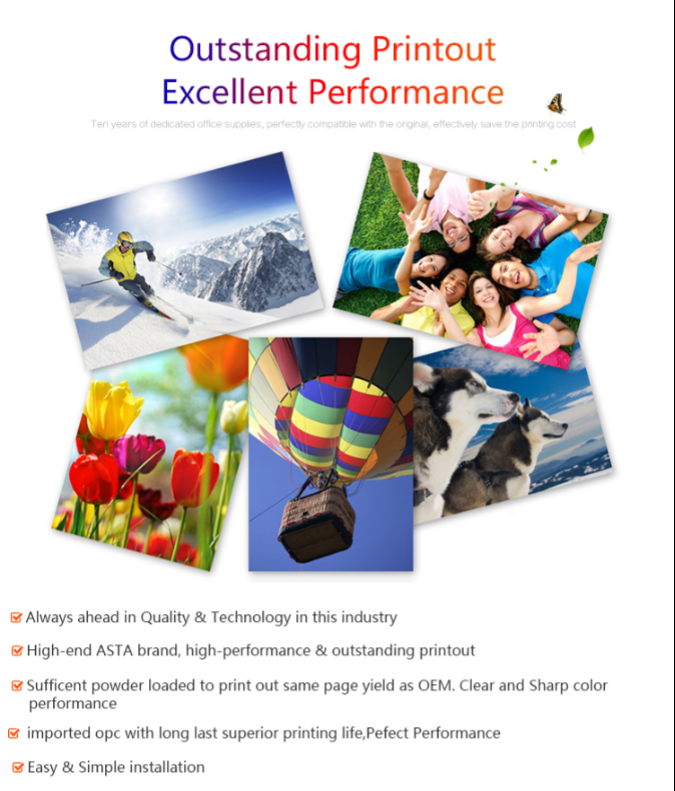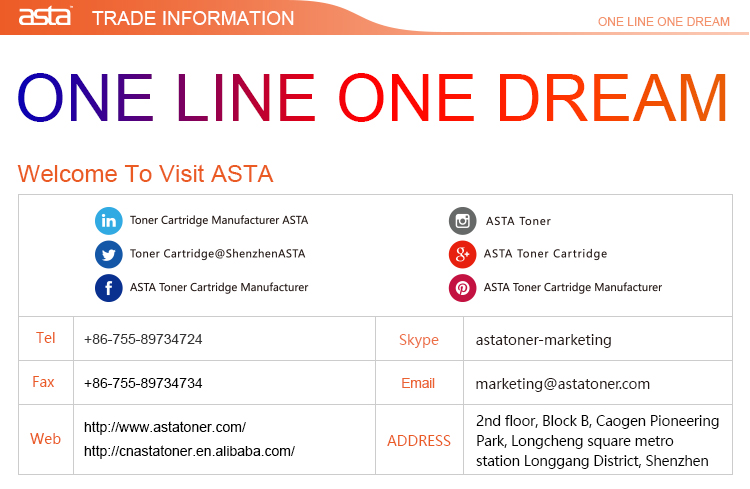 Seguici
ASTA Facebook: produttore di cartucce Toner Asta

Twitter di ASTA: Toner Cartridges @ShenzhenAsta

ASTA YouTube: @Astapanda Copiertoner Astatoner @ASTA Toner Cartridge
ASTA Google Plus: @China Toner Cartridge Manufacturer

Salvare
Elenco prodotti : Per Kit di cartucce di Toner Canon > Per Canon Kit di Cartucce Toner Laser